My Team
I take customer service very seriously. So does my staff. Together, we are committed to providing exceptional customer service to all of our clients.
If you need to schedule an appointment or request any other service, please let us know. We will respond promptly.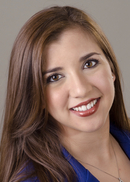 Amberlyn E Ponce
Amberlyn came to Northwestern Mutual with a background in customer service, sales and instruction. She joined Northwestern Mutual in 2013 and has been working with Melissa White's team since February 2015. She holds a producers license for Life, Disabiliy, and Health Insurance and Annuities.

Originally from Yuma, AZ, Amberlyn moved to Stafford, VA in 1998. In 2002 she moved to Richmond for college. After graduating from Virginia Commonwealth University in 2006 with a degree in Spanish, she ran her own dance studio in Charlottesville for five years, while also managing a dance and yoga retail store, teaching piano and voice lessons, and going back to school for accounting. After closing her dance studio, she moved back to Richmond to dance with Latin Vintage, where she met her husband, Wilson. In 2014 they moved back to Stafford where they welcomed their first daughter, Camila in 2015.
In her spare time Amberlyn enjoys playing the piano and violin, singing, going out dancing with Wilson, playing with Camila and her fur babies (Mina and Leo) and spending time with her family.

Amberlyn enjoys teaching and helping people choose what's best for their lifestyle.
Mary Sojourner
Administrative Assistant
Office 804-346-5466